Continuing from the last successful Interview post with Augusto which received good feedbacks from users, I also would like to introduce you Andrew Kelly, who has over 15 years of experience in software development and testing. Andrew is also an active member in the Software Testing LinkedIn group.
In this post today, Andrew will share his experience in software testing, opinions about hot topics such as Agile testing, Automation test and especially advices for beginners in testing.
Andrew is famous for his thought-provoking answers and questions so keep calm… and enjoy the reading.
1. Hi Andrew, can you please share a little bit about yourself, your professional experience and expertise?
I was lucky enough to really start my IT career back in the 90's with a great team which emphasized collaboration, mentoring and doing the tasks that need to get done rather than thinking about roles.
This lead me to a fairly diverse career path working in many continents, covering business domains ranging from Financial services to Ecommerce SaaS and having multiple roles within software development including team and project management before narrowing down my focus to Testing and Quality Assurance.
This diversity also expanded into very different working environments and I quickly learned there is no single right way of doing things.
Whilst I have worked in some great environments my current stance on testing has actually been strongly influenced by a mix of disillusion and recognition of "we are doing it wrong" from at least one borderline dysfunctional environment. The combination of stepping away, introspection and going back to learning ended up re-igniting my passion for testing and having a thirst for deeper thinking around testing and the value it offers software development and businesses as a whole
These days I am based in Asia, alongside fishing, painting and raising my young son, I relish any opportunities to help teams improve their ability to leverage from testing.
2. Any picture?
Here's one from a while back when I was on a fishing/introspection trip.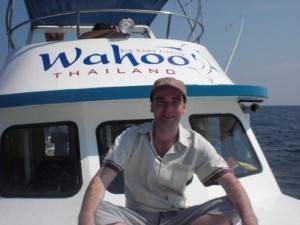 [Thanh] Look cool Andrew! 🙂
3. For years of experience in software testing with various roles, how are you seeing testing has changed from traditional testing to Agile testing?
I am not entirely convinced it has changed across the industry as a whole; some companies appear to be Agile in name only and there is a significant emphasis on Testing as a service these days which on the face of it can be counter intuitive to agile principles.
As mentioned I started in what some regard as an old school team where collaboration and wearing multiple hats as required was the norm, this old model as it stood then was not scalable and at the time I agreed it made sense to give testing a stronger focus and introduce a level of independence.
I believe many companies took the testing independence too far and lost more value from the loss of team collaboration versus what they gained from independence. Offshoring work also had a significant bearing on the idea of independent test teams, with the communication and cultural challenges a significant part of the industry opted to go heavy on the command and control management approach which again in my view lost more value than it gained.
Whilst going back to the model I began in would be a step backwards I do think that good Agile and collaborative phased models are an evolved version of this with the main evolutions being around having more structure/guiding principles in place and having empowered involvement of those with deep testing knowledge and skill.
For the most part I do think testing is moving forward.
4. Together with Agile testing, automation test has been becoming more and more popular. Is this good sign for the end of life of manual testing?
Previously I made the effort to adapt my language "manual" to match elements of the industry, a wise tester challenged me to experiment with dropping the term "manual". It turned out to be a fairly powerful experiment with regards to the way I think about testing even to the extent now that I think the association of "Manual" with testing can actually be damaging, it's all testing.
Being able to leverage from tools such as automation within software development is a great thing and in Agile teams there is even more opportunities to leverage from it as you have such close collaboration with strong coders.
There are some signs within the industry that a divergence of the testing role is emerging to the extent that it may be worth some companies recognizing two distinct roles even though they have pretty much all the same skills sets and activities under their remit but their preferred focus and value add is different.
Some testers will lean more towards the questioning, experimenting, learning side with things like session based testing whilst others will opt to focus more on the tool smith type side of things with very robust automation frameworks and coverage.
I personally have a strong preference for the former whilst leveraging appropriately from both the latter and the skills of the team as a whole and I see the advances in automation as a great empowerment opportunity to focus even more on this side of testing.
5. What are critical traits you think a tester must have regardless of the shop he/she is in?
Pragmatic, skeptical, open minded, curious with an inherent thirst for learning.
I'd also include a few skills that are borderline traits, critical analysis, collaboration, mentoring and sound judgment.
6. For those who are new in software testing, what are your three advices to them so that they can get along well in software testing?
Coders are your buddies, study and learn beyond the confines of your immediate companies remit and test as often as you can.
Even your most experienced testers can get overwhelmed when they jump into a new testing knowledge area, accept that testing itself is a career long deep knowledge area and it is okay to feel overwhelmed now and again.
7. What are your favorite books, not just about software testing? I'm pretty sure you have a lot of favorite books. Naming three of them is just fine.
I am a big fan of John Connolly's Charlie Parker Detective stories; I occasionally even pull the odd testing analogy from criminal investigation practices.
Lessons learned in software testing. I wish I had read it five years earlier as I had both made the mistakes and learned a lot of the same lessons over the years. It not only presented these lessons well but for me it was also very much a "you are not alone in your thinking" sort of book.
Perfect Software and other illusions about testing: I have a particular interest in mentoring non-testers, business owners, managers etc. who have a vested interest in Testing, the thoughts and ideas in this book are great for this.
8. Any blog you are following?
Being in the Asean region I do not get as many face to face opportunities for testing discussion as those in other regions where events and conferences are more common, as a result I rely a lot on internet mediums for learning, sharing knowledge and basically to stop me going stir crazy in my slightly isolated testing bubble.
I tend to have a very broad blog and general online discussion coverage in your average week. The "Developsense" blog is worth mentioning for me personally as I often start working on my own "new" line of thoughts only to find highly resonating but better thought through idea's in its archives from years ago.
9. Last question, how many testers does it take to change a light bulb?
I don't know Thanh, how many testers does it take to change a light bulb?
[Thanh] As a tester, I don't often change the light bulb, I just examine and report the room's darkness 😀
Thanks Andrew for your thought-provoking answers and sharings about software testing.
10. Any advice for contacting you?
People can contact me through these formally for Test and Test Program management needs or informally as a curious sounding board for thoughts and ideas on testing or even just general mentoring support.
I am more than happy to help where I can, this includes mentoring for non-Testing managers and Business Owners with an invested interest in leveraging from testing.
Email: andrewkelly2555[at]hotmail.com
LinkedIn: https://th.linkedin.com/pub/andrew-kelly/2/79/a73
Thanks Andrew again and see you around.