You've just passed the interview and accepted the offer as a tester.
Congratulations! You made it and I'm happy for you.
But the joy doesn't last too long really. You then worry about the first day in a new company.
My belief is you have one chance to make a first impression – Kevin McCarthy
Yeah, I'm talking about the first impression.
You know you are hired for reasons. Whatever reasons that could be, your employer likes you. You don't want to disappoint your employer the first day. You want to hit the ground running like a pro…from day 1.
But your head is still spinning around with these questions:
Who should I meet?
What questions do I need to ask about the project?
What's expectation from me?
How new team looks like?
Are team members friendly?
You may have more, I know, but it's fine. That's normal when we human have to deal with uncertainty.
By being prepared the questions you need to ask the first day when you first join the project will definitely give you a head-start in your job.
Santhosh Tuppad at TestInsane has done a great job at building a mindmap of important things you need to do and ask at your first day in a project. Go ahead and print it out for reference. Here is the mindmap:
Go ahead and print it out for your reference. Here is the mindmap: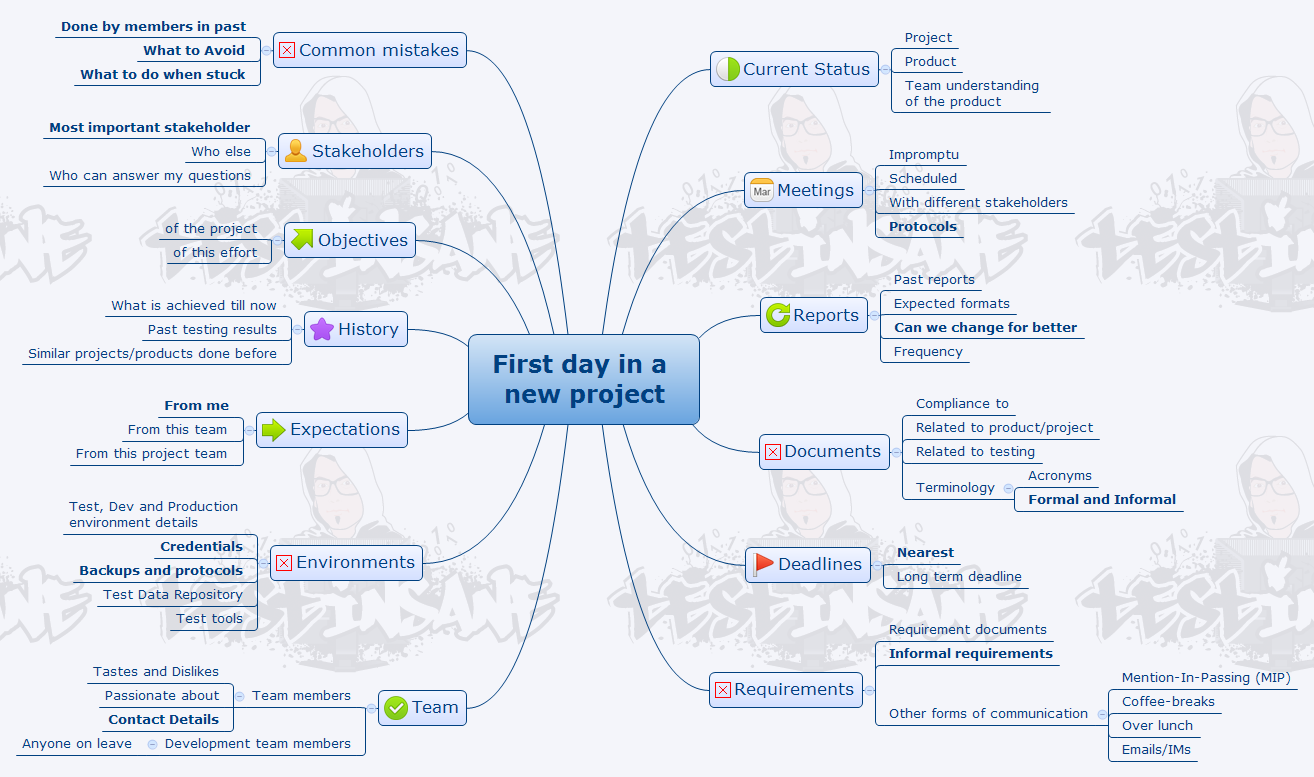 ( Click here for bigger image)
Here's the breakdown:
#1: Current Status
Project
Product
Team understanding of the product
#2: Meetings
Impromptu
Scheduled
With different stakeholders
Protocols
#3: Reports
Past reports
Expected formats
Can we change for better
Frequency
#4: Documents
Compliance to
Related to product/project
Related to testing
Terminology

Acronyms
Formal and Informal
#5: Deadlines
Nearest
Long term deadline
#6: Requirements
Requirement documents
Informal requirements
Other forms of communication

Mention-In-Passing (MIP)
Coffee-breaks
Over lunch
Emails/IMs
#7: Common mistakes
Done by members in past
What to Avoid
What to do when stuck
#8: Stakeholders
Most important stakeholder
Who else
Who can answer my questions
#9: Objectives
of the project
of this effort
#10: History
What is achieved till now
Past testing results
Similar projects/products done before
#11: Expectations
From me
From this team
From this project team
#12: Environments
Test, Dev and Production environment details
Credentials
Backups and protocols
Test Data Repository
Test tools
#13: Team
Team members

Tastes and Dislikes
Passionate about
Contact Details

Development team members
Anyone on leave
More often, your mentor will introduce you those things the first day, but if not, don't hesitate to bring up your questions or concerns. Of course, you don't have to know or have the answers for all those questions from day 1, but the more you know about the project, the better you are.
Also, note that you need to be careful with how you pose the questions. In some cases, you can ask the questions directly to get the answer, but in some cases, you need to pose your questions in a way that not put your managers/mentors in an uncomfortable situation. If you see they are not comfortable with some of your questions, step back and re-phrase your questions or you can skip the questions and get back to them later.
Besides of asking questions, don't forget that your team also needs to know more about you. Be ready to answer some of your questions from your colleagues, mentors or managers or share more about you.
If you are following the instruction in the mindmap, you are not only setting yourself a head-start but also building a first (good) impression on day 1.
What do you often ask to know on your first day at work? I'm interested to know.