I sometimes receive questions from readers asking how to get started in software testing. Most of them are from freshers or newly graduated. Particularly some of the questions come from those who would like to switch their careers to software testing when they are old or they are from non-IT background.
Like this: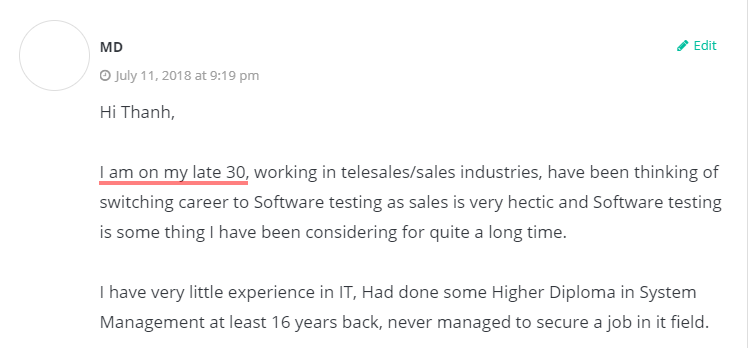 and this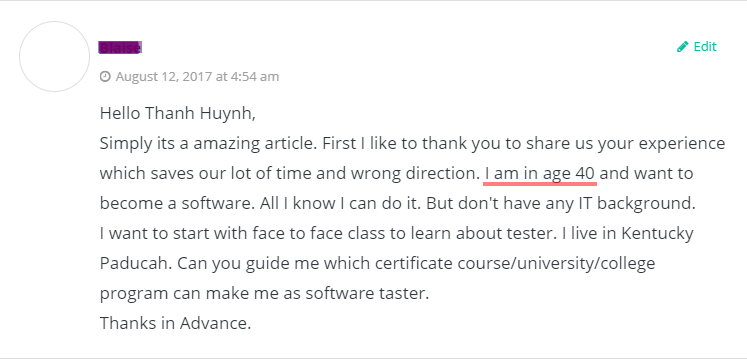 Man, questions like that are tough.
On one hand, I'd like to say yes because as a tester, I'm happy to hear someone shows his interest in testing. On the other hand, I'd like to say no because it would be really challenging when switching career to testing at this late.
Anyway, in this post, I'll try to make things clear for you and hopefully, after reading this post, you can make your decision.
Switching career is hard
It's even harder if you make a career transition when you're in 30s, 40s or even 50s
If you're in 20s, my simple answer would be "yes, go for it".
Why? Because after you experiment with software testing for a while and you realize software testing is not for you, you can always find something else to do. You should have enough time and energy to re-start your career. Unfortunately, it's not that easy when you get older and older.
There are various reasons why you're reluctant to change, but I think it's all boil down to this:
Fear of failure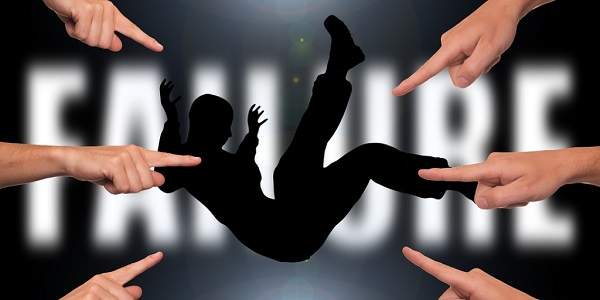 In other words, "what if I failed?", "what if I moved to software testing and I failed?"
"I may become an old failed guy?"
"Who would pay the bill?"
"Could I restart one more time?"
If you can overcome your fear of failure, the career transition would be much easier.
Your age
No discrimination here. However, in general, I don't think it's a good idea to start a new career especially in testing after 40 even 35. There are some problems with this:
Let's face it. Some companies prefer hiring young people to old people in IT industry especially for junior positions? Why? Because there's a perception that young people often have more energy, can catch things up better and learn things faster. Of course, companies are different and I don't doubt your ability to learn things either, it's just problem of age discrimination in IT that we have to deal with.
Another problem is that technology is changing every day. Testing is getting more and more complex and technical (due to the complexity of the system under test and the technology it's built on). The software testing industry is moving in the direction where it's required technical skills especially programming skill and the ability to learn new …well technical skills. Of course, there are testing jobs out there that requires less to non-technical skills but I don't think there are a lot of them right now. Sooner or later, they will no longer exist.
According State of Testing Report in 2018, below are skills required to be a good tester: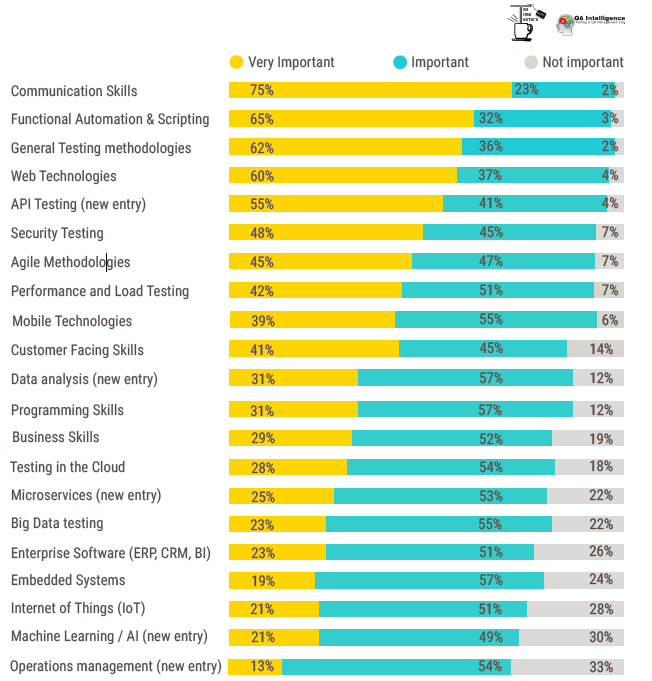 As you can see, even though communication skill still plays important role, more and more technical skills are needed.
Well, does that mean you can't become a tester?
No.
Who says that you can't become someone. It's all about how much you want it right?
When there's a will, there's a way
Hopefully, I'm not discouraging you so far. Let's move to the part you'd like to hear.
How to switch career to testing?
In order to overcome the above hurdles and have a smooth career switch, here are few tips to help you increase your chance to succeed:
Calm down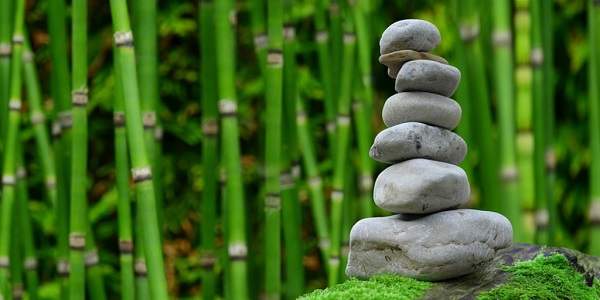 Are you too emotional when you decide to switch your career to testing?
I mean:
Did you decide to switch to testing just because you fed up with your current job, your boss, your colleagues and you thought switching career testing may be a solution for you?
Did you decide to switch career because you were so excited when you saw (or worse heard) someone doing great with testing such as good income, less stressed and you thought that you could do the same?
It may be true. However, in order to avoid making wrong decision when you are too emotional, let's calm down and do some research to see if software testing is for you. You may want to preview common testing activities and see if they fit you well or not. You may want to research if what characteristics of a great tester and see if you have some of them.
What's next?
Burn the ship!
No, don't do that.
Unless you don't have to worry about financial things or no options to choose, I do recommend you keep your current job or at least you make enough saving so it can cover you while you're learning or experimenting new things.
Shortcut your learning
Needless to say, when you're late, you need to speed things up a little bit to shortcut your learning.
Here's how:
Find a course where you can learn basic about software testing:
It's best if you can find an offline course or a local workshop where you can learn and practice what you learn.
The advantage is that is you can reduce your learning curve quickly. The downside is that it may cost you more money and time but it's worth it. Nevertheless, if your time is limited, you can choose to learn online. You can find tons of free or super cheap courses online (I do recommend Udemy even though Udemy is not famous for its best quality, it's still the good choice for the beginner and to save your money)
While there's a lot of debate about the value of certification, I still recommend a beginner to earn a certification. Earning a testing certification shows employers that you're serious in your career and you have the basic knowledge of testing to move forward.
I wrote about certification here and here. You can take a look.
Take advantage of your experience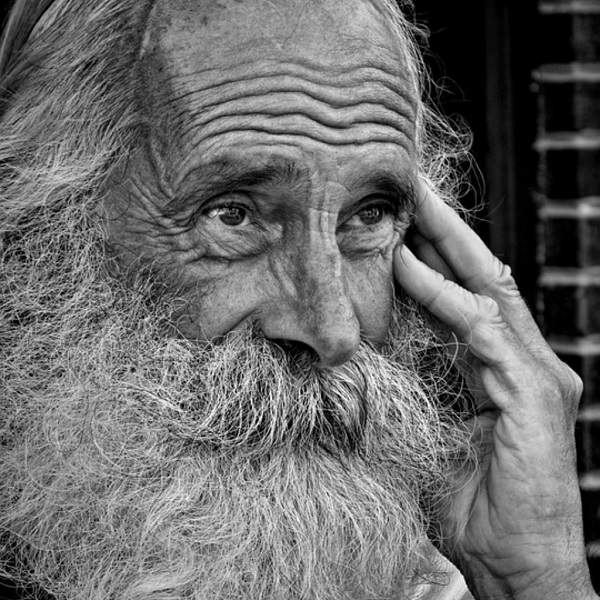 People who would like to switch to software testing often make this mistake. They think that when they switch their careers, they would start from zero.
No, it's not true.
Even though you have zero experience in testing, you should have a lot of experience in your previous jobs or knowledge in a specific domain.
Start from there and bring it with you over your new journey.
Don't ever under-estimate your experience because well your experience is yours.
Once you know your experience, your expertise or your interests, look for opportunities that fit those.
For example:
If you have knowledge in the healthcare domain, you may want to look for opportunities to become a tester to test health care related system.
If you're very good at playing games or interested in games, you may want to become a game testers.
If you're a sale man in a domain, you may want to look for opportunities to become a tester related to your domain.
Why this is a good idea? Because this will bring you the competitive edge that other testers don't have.
Focus on your strength, your experience rather than your weakness
Become a freelance tester
Testing is testing disregard you're a full-time tester or freelance tester. While being a full-time employee has its own advantage, being a freelancer is not a bad idea at all. You can work at your own pace. You don't have to worry about work-life balance. You work or "live" whenever you want.
Also, if you're old (you may have kids and family to take care), being a freelance tester may be a good choice for you. The entrance barrier for freelance work is less to none. Technical skills are required less to none (though you still need basic testing knowledge). In many cases as long as you're speaking a certain language or owning a certain smartphone, TV, wearable device, you're qualified for joining freelance projects.
Some of project requirements look like this (on uTest platform by the way)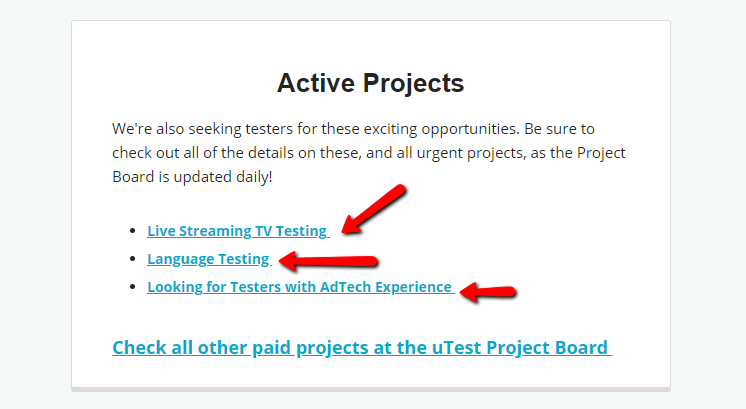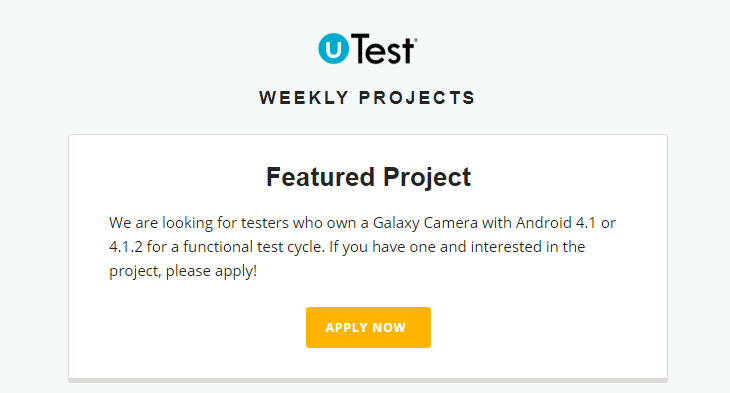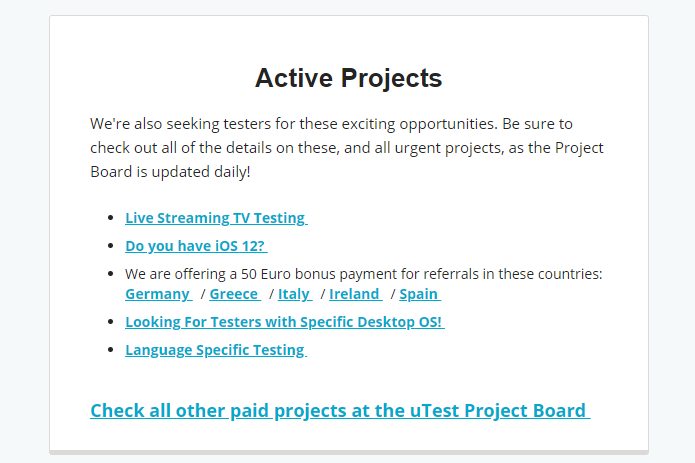 I wrote about starting a freelance tester with uTest in this post. It's a complete guide to becoming a freelance tester on uTest. You may want to check it out.
There you have it. I've just shared with your some ideas to get started in testing. Hopefully, it helps solve your problem.
But wait a minute, what problem you're trying to solve?
What if you're solving the wrong problem? I mean what if becoming a tester is not really solving your problem.
Think about it.
People want to switch to a new career and in this case is software testing because they want to achieve something or solve their problems. I doubt if people switch to testing because they're passionate about it.
Let's be honest with you and see why you'd like to switch. You can try the 5-why technique to go to the bottom of your problem. Even if you don't know if you really find the root cause of your problem, knowing your problem better will help you find better solutions.
"My current job sucks"
Why?
"I have a low income"
Why you have a low income?
"I'm not promoted"
Why you're not promoted?
"I'm not qualified for the promotion"
Why you're not qualified for the promotion?
"I don't have enough time to learn the new skills, I'm busy with my families, etc"
….
As you can see, once you dig deeper into your problems, you may realize the switching career or switching career to testing may or may not solve your problem.
Heck, I'm far from being a career advice expert or personal development expert. I'm not saying that this is easy or works with everyone but you should give it a try and see if you see things differently.
Your current job sucks or you want to earn more income? How's about changing company? How's about sharpening your skill and moving to higher ladder?
Want to have more time with family? Why not finding freelance related work or starting an online business.
Look. There's a lot of options for you to achieve your goals or happiness. Don't be too obsessed with becoming a tester that limits yourself to other opportunities out there.
What's next?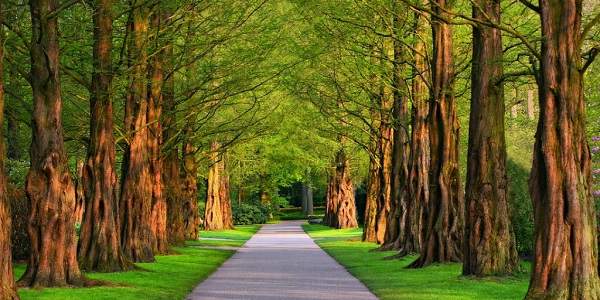 Take actions!
If there's one point I need you to do after this post is this: take actions.
Don't get trapped in analysis-paralysis that you would ask the same questions next year.
Make a decision and move forward.
As a China proverb says:
"The best time to plant a tree was 20 years ago. The second best time is now"
I hope you enjoy the post and I wish you all the best to achieve success and happiness in life… even if you could become a tester or not.