Hey testers,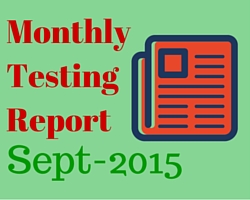 How were you doing last September? I hope you had a great month doing the testing.
Last September was a remarkable month jam-packed with a lot of events and activities in software testing industry.
Of course, one of the biggest software testing events was STARWEST conference. There were many good tutorials and sessions presented by famous speakers. This was also great opportunity to do networking with other testers in the industry.
Let's take a look and see what else happened last month:
Takeaways:
LogiGear Magazine: Mobile Testing – It's all in UX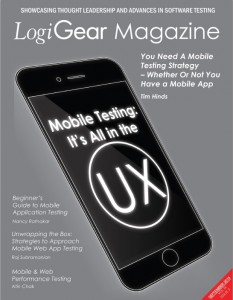 If you are doing Mobile testing, this September magazine from LogiGear will definitely fit well for you. If not, it's also worth a look since Mobile testing becomes popular these days.
Some highlights in this issue:
Mobile Testing is Mission Critical
Unwrapping the Box
Mobile & Web Performance Testing
COVER STORY: You Need a Mobile Testing Strategy
A Beginner's Guide to Mobile Application Testing
Testing Circus Magazine
Some key highlights for Professional Tester – 5th Anniversary in September: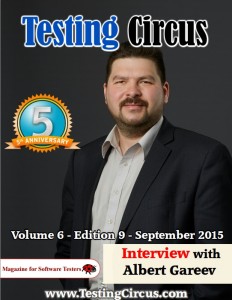 5 Years of Being Helpful – Geordie Keitt
Where is the Uber for Testing? – Pradeep Soundararajan
How to Test: Account Self Management – Mike Talks
Interview with Albert Gareev by Srinivas Kadiyala
Tracking Verification Activities in Agile Projects – Ravi Kumar BN
7 Practical Ways Testers Can Help Developers – Karen N. Johnson
The Evolution of Cooperation – Michael Niessl
Little Lessons Learned from Software Failures – Doris Robinson
New Release Of TestRail Offers Full JIRA Test Management
Salesforce Unveils Salesforce IoT Cloud
Mobile Banking Apps: HOW Testers Can Deliver
World Quality Report 2015-2016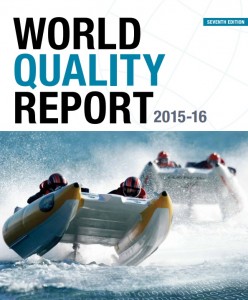 If you are wondering what are current and emerging trend in 2015-2016, you can find the answer in World Quality Report from Capgemini
Key points mentioned in this report:
Digital Transformation – A Discruptive Mind Shift with Huge Impart on QA and Testing
QA and Testing Budgets Outperform Prediction
Security Testing is the Top IT Stragegy Priority
Agile Testing Maturing to the Enterprise
Industrialization Become More Advanced
Test Environment and Test Data Management
Better Software Magazine:
Some highlights in this issue: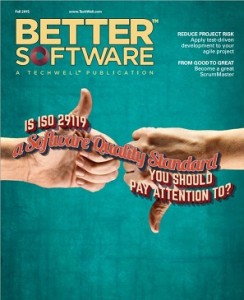 Software Testers Should Know About ISO 29119
Why ISO 29119 Is a Flawed Quality Standard
Applying Test-Driven Development to Agile
Planning to Performance Test Your App? Think Again!
Become a Great Scrummaster
How touch Time Impacts Delivery
The Evolution of Testing Centers of Excellence
Around the blogs:
AskTester Update: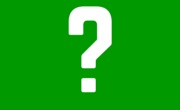 I was a bit slow at my end, so I haven't published any new post last month on AskTester.
My bad!
I will need to fix my procrastination problem and schedule better for new posts.
Even though I did not have any new post, there were great questions asked on AskTester:
That's all for Software Testing Report in September
Oh, by the way, if you don't see your posts here, it probably means I have missed your good stuff. Feel free to comment right below to tell me what I missed.
Also, if you are doing really hard to create something cool for testers to read, give me a heads-up at thanh[at]asktester.com, I'll consider adding it into next month report.
Like what you read? Subscribe now! The Monthly Software Testing Report will be sent to your inbox.